CircleDNA Overview: Several Tests from This University Spin-Off
CircleDNA started out as a university spin-off, when a team of professors banded together to look into genetics and clinical studies. Since then, it has grown in popularity thanks to its easy-to-use testing and reports system.
The question is, are this company's four tests – Vital, Family Planning, Health, and Premium – compelling enough to command you part with your hard-earned cash? That's what I wanted to know, too, so I took a test and I'll tell you what I learned.
Although I've separated my coverage into sections on the Ancestry Reports, the Health & Wellness Reports, and the Diet & Fitness reports, to correspond with our DNAWeekly categories, do keep in mind that CircleDNA's various tests (Vital, Health, Family Planning, and Premium) include aspects of all three.
Taking the CircleDNA Test(s)
CircleDNA's DNA collection kit includes a cheek swab, some instructions, a QR code to download the companion app, and a sample return envelope (addressed to DNAfit, which is owned by the same parent company):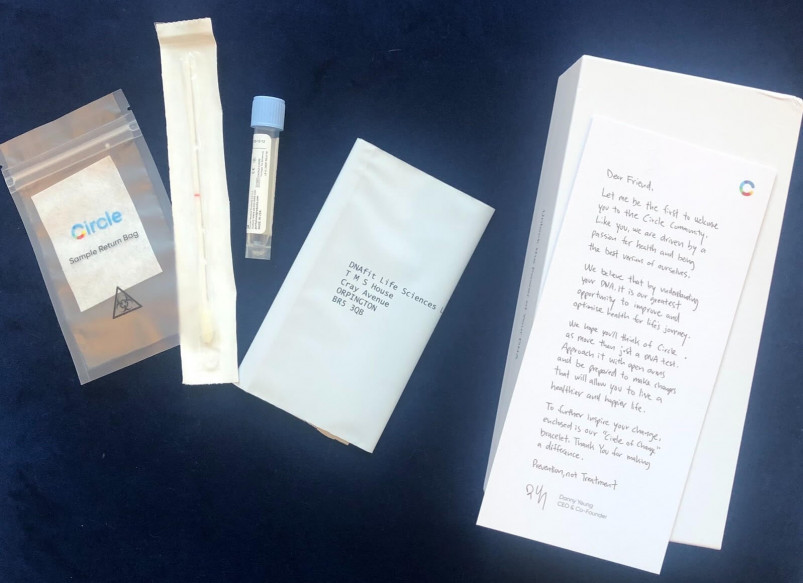 Performing the swab test is a breeze. Simply rub the swab against the inside of your cheek, place it in the return test tube, and pop it into the prepaid envelope for sending. Then, it's just a matter of waiting for your results.
Throughout the process, the company maintained good communication. They sent me an email to confirm the receipt of my sample and even provided an estimated date for when my report would be ready (about 18 days). To my pleasant surprise, I received another email with my results after only ten business days. Additionally, I could conveniently track the progress of my test through the app.
About the App
You can download the CircleDNA companion app from the Play Store or App Store, and the supplied QR makes it easier for you to do so. It takes around two minutes to create an account so that you can track progress and (eventually) see your results in the app as well as in the form of a PDF report.
A Detailed Look at CircleDNA's Health and Wellness Reports
CircleDNA provides three different packages that offer insights into your general health and wellness:
The Vital DNA Test provides some health information, especially to do with your nutrition and skin.
However, for a deeper understanding of your overall wellness, you need to go for the Health DNA Test, which includes more reports for genetic disease risks and carrier statuses.
For the most complete report that combines Vital and Health, pick the Premium DNA Test.
Health and Wellness in the Vital DNA Test
The first part of the Vital test is the nutrition section, which includes 20 reports for how your genetics affect your everyday nutrition. You'll see a list of nutrition needs – such as folic acid, iodine, calcium, iron, and more – along with an indication of whether your individual needs are higher or lower than average.
Since the app told me I have higher needs for iodine (and why iodine is important for thyroid function), I clicked through to see some good sources of iodine:
Before using CircleDNA, I had no idea that I should be eating more oysters, sushi, eggs, cooked turkey, yogurt, and canned tuna. Unfortunately, it doesn't design a food plan based on these recommendations.
Next comes the skin report that tells you what you need to know about your body's largest organ. The report covers 14 different aspects of skin health, including acne risk, skin age, cellulite formation, stretch marks, keloid scars, and skin bruising tendency.
Since I have a higher tendency toward cellulite formation – unlucky me! – I clicked through to see more information about cellulite formation and how to stop it or treat it by using caffeine cream.
After the skin report comes the sleep section that includes eight reports about your sleep quality and stress levels. Your sleep-related traits include sleep apnea risk, sleep depth, sleep duration, and sleep movement. According to the report, I'm a pretty average sleeper.
Even though I only have an average risk (37%) of developing sleep apnea, I dug a bit deeper out of sheer curiosity, to discover that the causes can include certain physical features, illnesses, and lifestyle choices (particularly the consumption of alcohol and smoking).
Key features:
20 different nutrition-based reports
Dietary recommendations based on your genetics
One free consultation with a diet expert
14 different skin-based reports, including acne risk
Eight skin and stress reports, including sleep apnea risk
Health and Wellness in the Health DNA Test
The Health DNA Test is what you need if you're concerned about genetic disease risks or your carrier status for congenital conditions that you could pass on to your children.
The report includes 36 cancer risk reports, 73 disease risk reports, six brain-related reports (such as for Alzheimer's disease), and eight common health risk reports. As with all the tests, you can access the reports through the app by clicking the relevant tabs.
You can dig deeper into each category, for example, to find out that you have a higher risk of breast cancer as a result of BRCA gene mutations. Each report also has a "Recommendations" button that leads to information on how you can reduce your risk by changing your lifestyle or diet.
The Health DNA Test also includes a free genetics counseling call with an expert, so go ahead and book a 30-minute time slot at a suitable time via the app. Take the information you obtain to your doctor if you still have concerns.
Key features:
Brain reports including Alzheimer's and mental health risks
36 different cancer reports, including hereditary BRCA cancers
73 disease risk reports, including heart disease and diabetes
A breakdown of 8 common health risk reports
Prevention recommendations based on your risk levels
One free genetics counseling call with an expert
Health and Wellness in the Premium DNA Test
The top-tier Premium DNA Kit combines the Vital Test and the Health Test, and it includes 500+ different reports on your skin, sleep, stress, nutrition, disease risks, and carrier statuses. This could, therefore, be a good choice if you're looking for an all-round DNA-based health kit.
In addition to the inclusions from the other two tests, the Premium package also includes a "Drug Response" section that provides insights into how your body reacts to certain medications.
You get two consultation calls with this kit, and – as before – you can book convenient time slots via the app.
Key features:
Includes everything you get with the Health and Vital Test kits
A drug response section details your responses to medications
Two 30-minute phone consultations with experts are included
Includes 157 carrier condition reports
Includes 115 cancer and disease risk reports
Health and Wellness in the Family Planning DNA Test
If you're planning on starting a family, understanding how your genes could impact the health of your unborn child is vital. In particular, you'll want to know if you or your partner could be a carrier for congenital conditions.
The Family Planning DNA Test, which is also included in the Premium bundle, screens for 157 conditions that could affect your offspring, including:
38 conditions associated with increased risk of neonatal & early childhood death
116 conditions shown to shorten lifespan childhood death
71 conditions carrying significant risk for intellectual disability
Results are delivered in-app and as a PDF report, and some of the conditions screened for are GRACILE syndrome, citrullinemia, d-bifunctional protein deficiency, Andermann syndrome, cystic fibrosis, and ataxia-telangiectasia.
Armed with information on your combined carrier statuses, you and your partner can make more informed family planning decisions, or you can talk to a doctor about your concerns and possible preventive measures.
The caveat, of course, is that the two of you – you and your partner – must take the test to assess your combined carrier status risks. This is because many conditions are only passed on to children if both parents carry an adverse gene variant.
Key features:
Tests for 33 conditions linked to neonatal and early childhood mortality
Reports on 71 disease risks that carry a risk for intellectual disability
Tests for 116 conditions that shorten life spans in children
Identifies whether you're a carrier for a total of 157 common diseases
Easy-to-understand results with helpful diagrams
Similar Tests to Consider
Choose the Premium Product, or Upgrade Later
If you're considering ordering a test kit from CircleDNA, you will – of course – be concerned about the cost. Fortunately, the company's easy-to-understand pricing structure should leave you with no problems.
The most affordable kit is the Vital DNA Test. The Health and Premium products both cost more than twice the price, but they're so similarly priced that it's probably worth investing in the Premium DNA Test rather than the second-tier Health DNA Test. But before you rush out and do this, do bear in mind that you can upgrade from the Vital to the Premium results at any time after taking the test, and you won't have to submit another DNA sample, but it could cost you a little bit more than if you went "all in" at the start.
Compared to its competitors, CircleDNA is on the more expensive side of the spectrum. You'll pay over $100 for the basic Vital Test, and a few hundred for the more in-depth reports. There are many diet reports – for example, from Geno Palate or Vitagene – that you can get for a fraction of the cost. In terms of health reports, CircleDNA offers a lot more information than competitors, justifying its higher price tag.
CircleDNA accepts all major credit cards, and payments (in GBP, USD, CAD, or AUD) are processed securely via the app or the website. Shipping is free to most destinations.
Several Support Options and a Complimentary Consultation
For self-support, CircleDNA's website includes a searchable FAQ page which has category headings for such things as "Getting Started" and "Ordering & Shipping."
If you can't find the answers to your questions, you can contact the company via live chat. If no advisor is available immediately, the live chat will invite you to enter your email address for a subsequent response. I encountered both situations when I asked about the Premium test: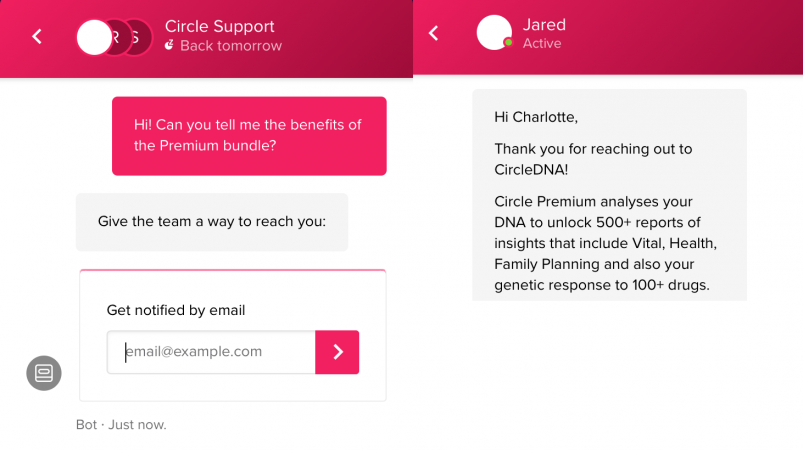 As just alluded, you can also email the support team, which is what I did to find out if I'd need to retake the test to upgrade from Vital to the Premium results. I received a reply within minutes, which confirmed that I could upgrade without having to submit another sample: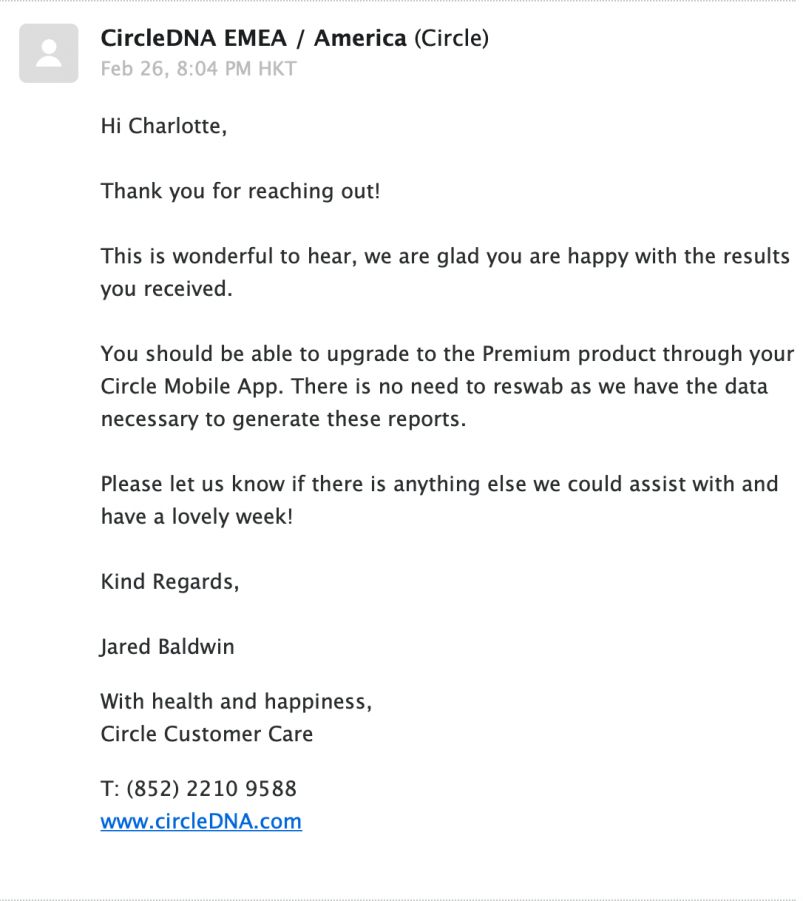 There's more because CircleDNA's test also includes one or two 30-minute consultations with an expert. I found it easy to book a consultation with a genetics-trained health professional by selecting "Book Consultation" within the app and providing my telephone number. I could choose one of three themes for the consultation: "Precision Sports & Fitness," "Weight Management," or "Living Healthier." I chose the latter.
A CircleDNA team member named Yianna called me at the time I'd specified to discuss my diet and nutrition. The conversation started with me explaining my current diet (cereal, a sandwich, and a hearty dinner) and the supplements I take (none). Yianna suggested that a "Healthy Balance" diet would be best for me, and she provided actionable advice on how to incorporate healthy fats and unrefined carbs into my eating regime. The most specific advice included encouragement for me to eat two Brazil nuts per day because my DNA mandated a higher need for selenium.
Yianna's diet-first approach meant that I wasn't encouraged to resort to supplements other than vitamin D3 due to the lack of natural light during the winter in the United Kingdom. I found Yianna to be polite, professional, and capable of explaining scientific findings in layperson terms. I was encouraged to ask questions at any time.
Although I took notes during the telephone conversation, 25 minutes later, I was pleased to receive a follow-up email that summarized our discussion.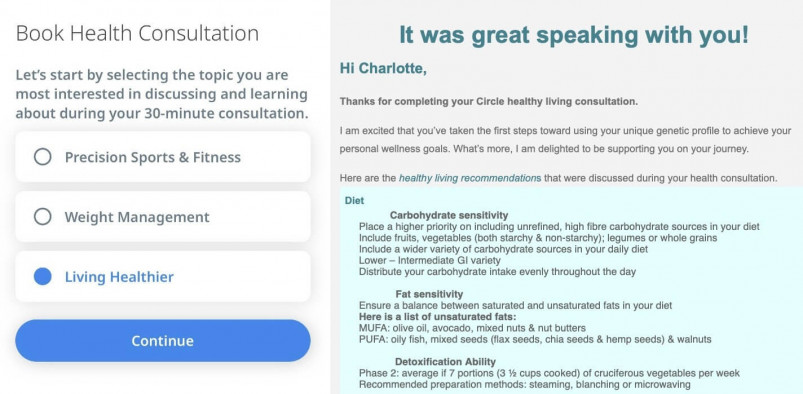 A Comprehensive DNA Test That's Worth the Money
Whether you choose CircleDNA's Vital, Health, or Premium Test, you won't be disappointed. Well, I wasn't, at least. I was happy with the easy-to-digest results via the app, and my expectations were exceeded with the complimentary expert consultation.
Although the tests include information about a wide variety of genetic disease risks and carrier statuses, you might want to check that any conditions of particular concern to you are covered. And although basic sports and training information is provided, you don't get the kind of tailored workout plan or detailed information that you get with DNAfit or Vitagene (for example).
Despite these drawbacks, CircleDNA's DNA tests are comprehensive and are certainly worth the money, hence my high score. That said, the tests are quite a bit of money compared to many competitors. If you find that the price tag is a little too hefty, look into more basic – but still very insightful – options like MyHeritage and AncestryDNA.
FAQ
How accurate is a CircleDNA test?
CircleDNA boasts 99.9% accuracy, validated by the Croucher Lab of Genomics. The results of this DNA testing kit are based on whole-genome sequence testing. What's more, as part of your package, you also get a complimentary consultation with a genetics-trained expert.
How does a CircleDNA test work?
After choosing the package you want from CircleDNA, you will receive a kit through the post. The kit includes a mouth-swab test, a QR code (which allows you to download the accompanying app), a free-post envelope, and a set of instructions. You should also download the app to receive your results digitally. After completing the swap, you post the sample and get your results after around 10-18 working days.
How does CircleDNA compare to more well-known competitors?
If you're hoping to learn more about your family history, choosing a test such as the Ancestry kit from 23andMe may be a better choice than CircleDNA. The former is cheaper and boasts 1,500+ geo regions and 50+ ancestry-centric reports.
However, from a health and wellness perspective, the CircleDNA reports fare well against competitors. For example, the MyHeritage DNA results are overseen by qualified physicians, while CircleDNA reports are validated by the Croucher Lab of Genomics. Both companies report on genetic predispositions to different diseases and your carrier status for congenital conditions, but CircleDNA covers many more.
Much like leading brands, the CircleDNA report covers a variety of health issues, including skin, stress, nutrition, diet, fitness, and more. Moreover, the Premium version of the testing kit also includes fertility and disease carrier status reports.
How much does a CircleDNA test cost?
Since CircleDNA has a couple types of testing kits, each package is individually priced. The Vital Kit costs over $100, while the Premium Kit will run a few hundred. This is more expensive than many competitors – especially if you are just looking for diet and fitness or health and wellness results. However, there are regular sales and discounts that you can apply.
Who should consider taking a CircleDNA test?
The reports from CircleDNA are ideal for people who want to take control of their health and well-being. The reports include handy information about how you can change your diet and exercise regimes to better suit your wellness goals. Plus, you also get a free consultation with an expert too, which is useful in creating an action plan.
Also, if you're worried about a certain disease or condition, the Premium Kit offers you the insights you need to put your mind to rest. It's also perfect for couples who are planning a family as you get fertility information based on your genetics.
However, if you want to learn about your family history, this may not be the kit for you. The information is limited here. In that case, it may be worth looking at other DNA testing companies – like MyHeritage or AncestryDNA – that focus solely on the goal of identifying your ancestry and creating a family tree.